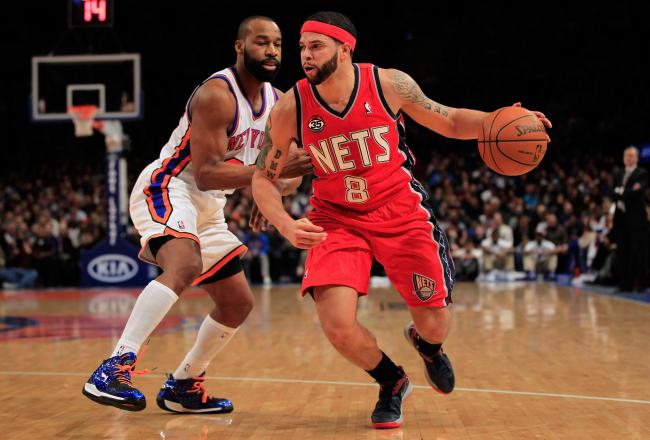 Deron Williams is ready to lead a fun Nets unit.
Style: If coach Donnie Avery puts this lineup out on the floor, it is sure to be a fun couple of minutes.

With this unit, Brooklyn has four guys who can handle the ball and run a pick and roll.

The way I see this lineup playing is similar to the mid-2000s Phoenix teams.

Four guys will be on the three point line and run various pick and rolls with Brook Lopez and pick and pops with Mirza Teletovic (for those that do not know about Teletovic here are
stats
and
highlights
).

Every team in the league runs a screen and roll/pop, but what made those Suns teams so devastating was the other three players on the floor.

If Deron Williams and Lopez were to run a pick and roll, all three of their teammates would be spotting up on the three-point line.

Williams could dish to a rolling Lopez who would have two options:

either finish strong, or pass to the strong side corner where a Net would be wide open for three because of the rotation to cover Lopez.

Williams could also slash and kick/finish or pop from three.

This lineup can also go to Lopez in the post or at the elbow where he would then have plenty of space to go to work because of the shooters spreading the floor.
The biggest problem this unit would have is on the boards, both offensive and defensive.

This lineup is small to begin with, but Lopez is infamous for bad rebounding and Teletovic is only 6' 9".

Luckily, Joe Johnson and Marshon Brooks are long quick defenders that will force some long shots and thus long rebounds.

Brooklyn guards can latch onto these leading to some fun fast breaks.