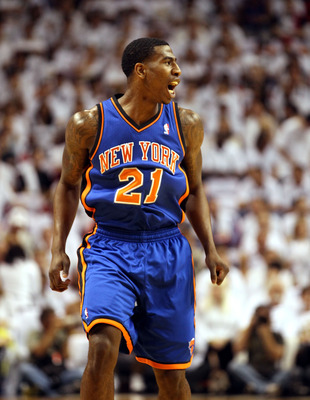 Iman Shumpert is excited to be in this lineup.
·
Defense, defense, and more defense
Style: First things first, when this lineup is in, the game will not be pretty.

On offense everything will run through Carmelo Anthony.

Nobody else in this lineup can create off the dribble, shoot consistently from distance, post up, or run the pick and roll nearly as well Anthony, which may lead to a huge usage rate for him.

Meloball will be the entire offense.

While this will most likely to be inefficient to a high degree, sometimes offense must be sacrificed for defense.
And on defense, this unit is a wrecking crew.

Here are a couple facts that should sell you on this lineup, at least on one side of the ball.
·
Iman Shumpert allowed 0.69 PPP (Points Per Possession) and forced a turnover 24.3% of the time last season when defending isolations.
·
Ronnie Brewer allowed only 0.76 PPP when defending the pick and roll ball handler and committed a foul a miniscule 2.6% of the time.
·
Marcus Camby gave up 0.55 when defending the post which was ranked 5th in the entire league.
·
In isolation defense, Tyson Chandler allowed 27.2% shooting and his PPP allowed was ranked 17th in the NBA.
Carmelo isolations + defensive rotations=this unit's formula for success.
All stats courtesy of Synergy Sports.